Single, Double with bathrooms from:
£70 to £140 per night
Rating: Applied For

Non Smoking
WELCOME TO BLOOMFIELD HOUSE - BATH'S OWN CLASSICAL ECO-HOTEL.
Bloomfield House is one of the finest Georgian family houses overlooking what is arguably England's most beautiful city. Built in the 1790s, most likely by Baldwin, Bath's leading architect of the day, it was once the home of the Lord Mayor and Lady Mayoress. At Bloomfield, exceptionally elegant rooms, fine art, antiques and splendid views combine with environmental credentials. Full English breakfasts are organic, fair-traded and provided by local suppliers. House-trained children and, by arrangement, pets, are welcome.
In addition to regular bed and breakfast, environmental seminars and small conferences also take place at the hotel. These are run by visiting organisations or facilitated by the proprietors, Karen and Robert Barnard-Weston, who also co-founded Bath's Farmers Market, the first in England. Seminar delegates are encouraged to bring their partners along, thus adding a relaxing weekend break to their professional sojourn during the weekdays. Others simply come for R&R: revelling and romance!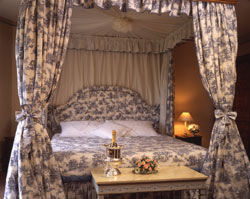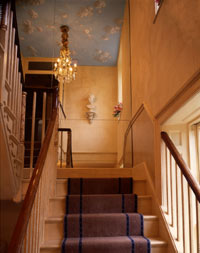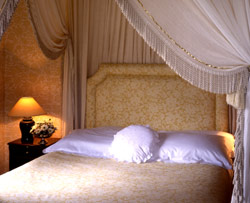 Bedrooms:

Accommodation ranges from cosy single rooms to stunning doubles with four-poster beds, each with an en-suite or private bathroom. The entire establishment is furnished with antiques and decorated with trompe l'oeil painting.
All rooms offer television; wireless internet access is available both within the building and gardens. A library of books, movies and music is available.
The views from Bloomfield are delightful, the hotel being situated in an elevated position on the southern edge of the city, looking down across Bath's world-famous crescents, churches and surrounding hills.

Eating and Drinking:

Bed and breakfast guests enjoy traditional English breakfasts cooked using fresh ingredients supplied, wherever possible, by local producers. Many of these farmers and growers trade also at Bath's Farmers' Market, which was co-founded by Robert Barnard-Weston, proprietor of Bloomfield House. Non-local goods such as coffee are fair-traded and/or organic.
Seminar and conference delegates may choose when booking what types of fare they prefer. Special events are planned to order, featuring guest chefs offering a wide range of culinary styles.
Being a world-famous tourist destination, Bath offers a huge range of restaurants of every kind and is just a few minutes' taxi-ride from the hotel.
BLOOMFIELD HOUSE - A BREAK WITH CONVENTION
Direction:
From the M4 - Junction 18 - head for Bath. When you arrive in Bath itself follows signs for 'through traffic' Bristol A4, you will be skirting around Bath clockwise.
Follow the road around, through two sets of traffic lights and one roundabout (still following 'other routes') you will go under a railway bridge crossing traffic lights at the same time. Keep following the road and soon you will be in a one way system with two lanes, stay in the left lane and when have to give-way you will see the railway line above you to your right.
Take the first LEFT. (Wells Road)
Do NOT go under this railway bridge (if you do it is a roundabout, so just keep going around).
The left turn you want goes up hill and is signposted A37 Shepton Mallet & Radstock. When the road levels out, there are several shops ( Andrews/ Co-Op) and a pub on your right called The Bear. Just past this, get into the right-hand lane and take the right fork ahead of you called Bloomfield Road. We are then the second Hotel on the right.
If you miss the Bloomfield Road turning look for St. Lukes Road or Hatfield Road on your right and cut across.
Our cancellation policy:
72 hours no charge, 48 hours the first night will be charged, 24 hours will be the full account. All cancellations must be in writing or by e-mail.
Tariff:

Bed and Breakfast rates range from £75 (Single), to £100 to £140 (Doubles/Four Posters), including full English breakfast. House-trained children and, by arrangement, pets, are always welcome. Prices for fully-catered conferences and seminars are quoted individually.
All rates are inclusive of service and value added tax and may be subject to change.
Special Offer:
Being an emerging eco-hotel, Bloomfield likes to reward guests who are themselves prepared to make an effort on behalf of the planet and society. Those who travel by train or other public transport - or even by bicycle - will earn themselves a discounted bed and breakfast rate. Conference guests arriving in a sustainable manner are entitled to additional privileges, negotiable when booking their events. Please click here to contact us about your conference.
© Vistus Travel Ltd 1995 - 2011
This information belongs to Visitus Travel Ltd and to the individuals listed
This page is part of the "Bed and Breakfast in the UK" site on: http://www.visitus.co.uk
for further information, please contact : admin@visitus.co.uk

We welcome any comments or suggestions you might have regarding this site
Last updated Thursday 3rd. November, 2011