We look forward to welcoming you to Cranleigh, our Victorian home where guests enjoy high standards of accommodation and traditional hospitality in a non-smoking household.

From the fine hallway to the light and airy bedrooms you immediately feel at home in this warm and comfortable house.

Our spacious guest bedrooms are all en-suite, glowing with colour and individually decorated - one has a stylish four poster and another a distinctive canopied bed. Each has been equipped with thought and care to include colour TV, hospitality tray, radio alarm clock and hairdryer together with books and magazines. Five of the bedrooms are at the rear of the house and have magnificent views over Bath and the Avon valley. There is one bedroom of exceptional size (very suitable for families) looking onto leafy gardens. All around the house there are interesting objects, beautiful drapes, high ceilings and the original fireplaces which give Cranleigh its friendly character.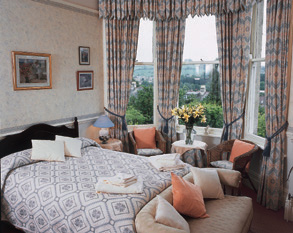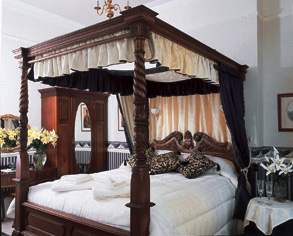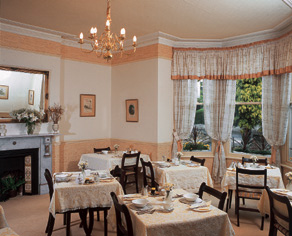 The sunny south facing garden is a good place to relax in summer time, either to recover from your last foray or to plan the next one. We have a wealth of information along with plenty of suggestions and maps to help you make the most of your visit. Cranleigh is in a quiet residential area with private parking and easy access to the heart of Bath. A 'Park and Ride' scheme is nearby to save taking your car into the city centre - a great advantage in busy times. If you have the time, take advantage of our offer of a round of Golf (including club and trolley hire) at a local Golf Course.
---
Typical Menu
We are pleased to be part of "The Real Bath Breakfast" featuring many ingredients from local Producers and Fair Trade suppliers.
Starters include choice of cereals, yoghurt, fresh fruit salad etc.

A SIMPLE BREAKFAST
- Egg(s) scrambled, boiled, poached or fried

FISH FOR A CHANGE
- Kippers or Smoked Haddock served with fresh brown bread

TRADITIONAL ENGLISH GRILL
- Smoked Bacon with Sausages from Lye Farm in Somerset, Tomato, Mushrooms, and Fried Egg

VEGETARIAN OPTION
- Baked Beans or Spaghetti on wholemeal toast, for something different why not ask for Grated Cheddar Cheese on top

CONTINENTAL CHOICE
- Help yourself to Freshly Baked Croissants

AMERICAN STYLE
- Pancakes, served hot with maple flavour syrup

SPECIAL TREAT
- Creamy Scrambled Eggs with a lattice of Smoked Salmon


---
What just a few of our guests have said about us:-
"Our stay here was even more wonderful than we imagined"
Rod & Leigh Stains, Dan & Vicki Murrell.

"Thank you for your hospitality. The room was beautiful and the food outstanding. Hope to stay here again"
Fred, Joanne, Shannon, Sarah and Alleen Quinn, Atlanta. USA.

"The lovely room and your gracious hospitality made this a most enjoyable visit"
Dolores J Argabright.

"Fantastic hospitality and wonderful breakfasts"
J Lowden, Yarm, UK.

"This establishment is so lovely, delightful and delicious! I couldn't have enjoyed it more and I thank you!"
S Kelley, New York, USA.

"Our stay here was absolutely perfect! This was the best place we've stayed in England. Thank you for the wonderful hospitality."
Josi Snyder & Nirvan Khokhan.

"Thank you for your hospitality. Cranleigh reflects all that is tasteful and elegant about Bath"
W. Suter, Wales.

"Thank you for your extraordinary service and hospitality. My mother, daughter and I felt so welcomed in your lovely home (B&B)."
Mary Mills.

"Best B&B in Bath - a wonderful stay. Thank you
Beth & Tom Flinn, South Wales.

"Just what our body and souls needed. Lovely rooms and breakfast. Made our stay in Bath truly wonderful. Thank you"
Sharon & Frank Leonard, Melbourne, Australia.
---
Tariff

Double Room with full English Breakfast from £65 - £85 incl VAT
Superior Double/Twin with full English Breakfast from £70 - £89
Four Poster from £80 - £95
Family rooms by arrangement from £95 - £125
Children minimum age 5 years old

Open all year

MASTERCARD, VISA, AMERICAN EXPRESS accepted