Dene Villa is a small family run guest house offering a comfortable stay in warm friendly surroundings. We have been welcoming guests to our home from all over the world for 20 years and have enjoyed meeting you all. We are renowned for the hospitality we give to our guests. Browse through our Visitors Book for comments on the friendly service we offer. Comments of which we are very proud of.
Our rooms are very comfortable and individually decorated.
All rooms have T.V. , hair dryers and tea/coffee making facilities. Each room has en suite facilities, Central heating to keep you warm in Winter.
Towels are supplied and changed daily.
Breakfast is served in our delightful dining room from 7am -9am. A time to suit everyone. If you have an early business appointment or have booked to go on a tour, you do not have to miss out the breakfast. A choice of Breakfast is offered and special diets and vegetarians are catered for.

Please advise when booking. Remember We are there for you to enjoy your stay with us and your needs are a big part of that.
We want our guests to feel at home the minute they arrive. Guests have their own set of keys. Dining out till late, you decide how early or late you arrive back by.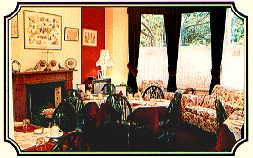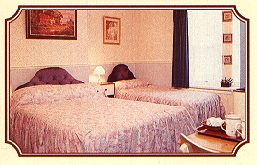 Dene Villa is situated just over 1 mile from the centre of Bath.
Bath like any other city is not car friendly. We advise our guests to park the car in our car park and walk through Royal Victoria Park taking in The Royal Crescent on your way to the centre. Buses run every 5 miutes nearby. Arriving by train or coach, you require bus No 14 or 17. Bus Stop is close to bus and rail stations.
You need to depart the bus at The Weston Public House. Taxis are available outside train station.
We have no check in time. Advise us on booking and we will accommodate you. Check out time is 10AM . We will look after your luggage if you have late departure from Bath.
Brian and Josie Surry, the resident proprietors will be delighted to help you plan your day trips to the many interesting places, which are within a short journey from Bath.
We will help with directions to all locations.
i.e. AVEBURY , LACOCK, STONEHENGE, CASTLECOMBE, CHEDDER, WELLS, and any other point of your interest. (R. U. H. Hospital within 5 minutes walk)
Small shopping complex nearby. Pharmacist, Launderette, Supermarket, Restaurants and local pub serving food at affordable prices.
Enjoy the ambience of the historic city as you wander the quaint side streets filled with cafes, galleries, museums, and antique shops, not forgetting the Roman Baths and Pump room in the very heart of the city.
Dene Villa is a Victorian House and because of the age and design is only suitable for guests with sufficient mobility to climb stairs.
Assistance with luggage is always offered.
TARIFF 2015
Prices are per night and inclusive of breakfast.
Single Room £35 - £40
Double Room £65 - £80
Twin Room £65 - £80
Family Room £85 - £95
All rooms are en-suite.
BOOKING AT DENE VILLA By Phone or by Email. No Deposit is required as payment is on arrival in Cash, Cheques with Guarantee Cards. Sorry No Credit Cards Facilities. It is always advisable to book early to avoid disappointment.
SPECIAL OFFERS
FREE PARKING AND FREE WIFI: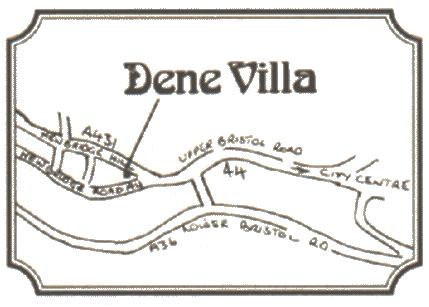 © Visitus Travel Ltd. 1995 - 2012
This information belongs to Visitus Travel Ltd and to the individuals listed
This page is part of the "Bed and Breakfast in Bath" site at http://www.bath.org
For further information, please contact : admin@visitus.co.uk
We welcome any comments or suggestions you might have about this site.
Last updated: Thursday, 27th. December, 2012