" A Georgian Town House Hotel of charm and character"
11 Henrietta Street,
Off. Great Pulteney Street
Bath BA2 6LL

Phone: +44 (0)1225 310472
Fax: +44 (0)1225 460054
Email: reception@kennard.co.uk
Website: www.kennard.co.uk

You are invited to a Georgian Town House Hotel in the beautiful city of Bath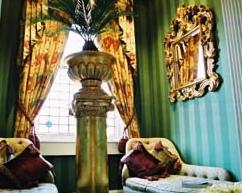 Built in 1794, the golden age of Bath's Georgian elegance, it was once a lodging house which one rented to enjoy this delightful city. Over many years, the house has been carefully maintained and restored and we hope it will now give you the experience of staying in one of Bath's original Georgian townhouses. Throughout the house, the essence has always been to provide a quality and stylish décor suited to a building of this period.
However, it also offers all the modern features which are now expected: en-suites with showers, telephones with data port, wireless internet connection in all rooms, satellite television (some rooms now with plasma screens) and beverage trays. For those arriving by car, free residents' parking permits will be provided. Rooms are generally ready for 2 pm, but we can take arrivals from 10.30 am to store your luggage and issue a parking permit, if required.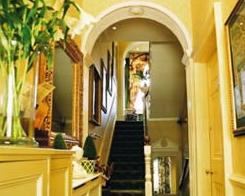 A strict no-smoking policy is maintained throughout the hotel.
So enjoy a tour of the house and experience that elusive quality which sets The Kennard - this very special town house hotel - in a class of its own.
The Hall
The entrance hall leads you into a Georgian Town house which so epitomizes a past era of style and elegance. Built as a lodging house for Bath's grand era of prosperity, the house has seen many changes of owners over the years. But now with careful and loving restoration, it still retains and reflects that period of gracious living.
The Landing
A Golden Urn on its Corinthian column, bathed in sunlight reminds us of Bath's Roman past - the golden city of Aquæ Sulis. A pair of elegant chaise-longues provide a delightful seating area for you to relax and enjoy the classic style.
And over all this a portrait of a past lady watches the ever changing scene...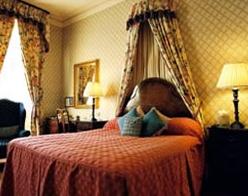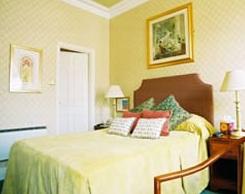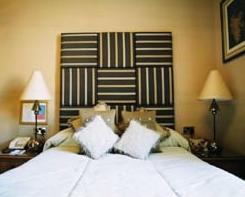 The Rooms
Every room in the house was for a different use and so all have their own individual style and character. The smaller rooms tend to be over the garden side. The large reception rooms are at the front of the house and are now the Executive Double rooms. However, with all the rooms, the emphasis is always on quality and comfort.
Executive Doubles

To enter these rooms , one can appreciate how gracious was that period of Georgian architecture. With high ceilings, fine plasterwork, double windows now accompanied with heavy drapes, canopied queen beds and a writing desk, an Executive room gives you that extra space to relax during your stay.
En-suite facilities (showers), free wifi Internet access, direct dial data port telephones, hairdryers, full beverage trays, satellite televisions - all will add to your comfort.
Standard Doubles
It is those little extras which make your stay so special...
With private bathrooms (showers), free wifi Internet access, beverage facilities, satellite televisions, modem telephones and hairdryers, The Kennard has that style and comfort which will wrap around you a feeling of loving care.
Relax and enjoy your stay here...
The Breakfast Room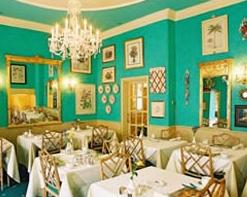 Good morning and welcome to the original kitchen of the house. Recently fully restored, now hung with Venetian chandeliers, the tables set with fine linen and china, it is the perfect setting to enjoy your breakfast.
So your table is ready and the coffee is hot and fresh. We will take your order for a choice of English breakfasts which will be freshly cooked to order. So serve yourself from the buffet for a selection of cereals, fresh fruits and freshly squeezed juices.
Linger a while, there is still time to continue your tour...
More toast, more coffee??
Tariff
En-suite Executive Double rooms
At the front of the house, the original reception rooms, with high ceilings, queen beds with canopies and full drapes.
Rates for 2 persons from £118

En-suite double rooms
Mainly over the garden side of the house with standard size double beds. Rates for 2 persons from £98 Rates for 1 person from £79

Large en-suite twin room
Double bed and single bed so can be Twin or Triple room. Rates for 2 persons from £98 Rates for 3 persons from £138

2 Single rooms
Sharing shower and toilet. Rates for 1 person from £58
Credit Card Facilities
Find us:
We want your visit to be as easy and stress free as possible. With you in mind, we have put together a set of directions to the Kennard Hotel below
The City of Bath is in the south west of England in the county of Somerset. London is only 110 miles away, with a direct train service every half an hour from Paddington (90 minutes) or just 2 hours by car (M4 Junction 18).
Bristol Airport is only 40 minutes away (25 miles), while Gatwick and Heathrow airports have easy train connections to Bath. (Full details on our travel links).
Allow an hour travelling by road if arriving from the Cotswolds (N) or the City of Wells (SW) or Stonehenge (SE). Bath is an ideal base for visiting all these areas.
The Kennard is quietly situated just over Pulteney Bridge and we are within minutes of the Roman Baths and the new Thermae Spa Complex. An ideal location.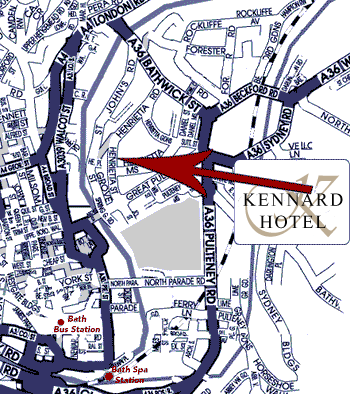 Like to know more or for booking? Visit our page at www.kennard.co.uk
© Visitus 1995 - 2007
This information belongs to Visitus Travel and to the individuals listed
This page is part of the "Bed and Breakfast in Bath" site at http://www.bath.org
For further information, please contact : admin@visitus.co.uk
We welcome any comments or suggestions you might have about this site.
Last updated Monday 9th April 2007