Welcome to The Old Red House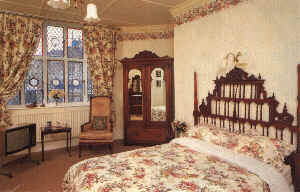 We hope you will enjoy your stay at Alfred Taylor's famous "Gingerbread House", which was built 100 years ago and was for many years a high class patisserie and bakers shop. Although the house retains much of its original charm, including stained glass windows, it now enjoys the unmistakable atmosphere of a warm and comfortable family home, full of pictures and family treasures.
We also have a lovely "Four Star" self catering Georgian Apartment (sleeps 4) smack in the middle of Bath available for week ends, midweek or longer stays please visit: www.georgianapt.co.uk
The Old Red House is one mile from the heart of the city. There are several friendly pubs and a restaurant close by, as well as nearly 80 restaurants in the city centre. (We always keep a selection of menus from our own, and your fellow guests' favourites). You'll be spoilt for choice!
We look forward to welcoming you into our non-smoking home.
Our house has cozy double bedrooms, one of which is in a private lodge. They are all beautifully decorated and thoughtfully equipped, with, colour televisions, complimentary tea and coffee trays, radio alarm clocks, hairdryers and either en-suite shower or private bathroom.
There is also one extra special, spacious bedroom, with lovely antique furniture, stained glass windows and marbled fireplace. This room has a large double and a single bed with en-suite shower room. Although it is ideal for families or a longer stay, it's romantic enough for the perfect honeymoon!
Small well lit Car Park.
---
Breakfast is our Speciality
Breakfast is served around our family style dining table from 8am to 9.15 am
We have a choice of Breakfasts to set you up for the day
(or prepare you for the fray, depending on your plans!)
To Start
Choice of at least 5 Cereals
Chilled Fruit Yogurt
Fruit Compote
The Great Bath Breakfast:
(Locally Produced Pork & Free Range Eggs)
Egg, Smoked Bacon, Sausage, Mushroom & Tomato
St Clements:
Raisin and Banana Pancakes served with Banana and Maple Syrup
Continental Style
Two Fresh Warm Croissants
The American Way
Waffles with Golden Maple Syrup
A Scottish Custom
Delicious Smoked Kipper Fillets
A Special Treat
Lightly Scrambled Eggs with Smoked Scottish Salmon a mere
£1.00 extra
A Healthy Alternative: Chilled Fruit Salad covered with muslie topped with natural yoghurt and laced with runny honey (yum yum!!)
***
All breakfasts are individually cooked to order and include Orange Juice, Choice of Teas or Fresh Ground coffee ... and Plenty of Wholemeal Toast.
---
| | | | |
| --- | --- | --- | --- |
| | Minimum | Maximum | |
| Double Bedded Room | £50 | £60 | per night |
| De-luxe Bedroom for 2 people | £55 | £75 | per night |
| De-luxe Bedroom extra adult | | £20 | per night |
| De-luxe Bedroom extra child | | £15 | per night |
| Single Occupancy of Double Room | £35 | £45 | per night |
Self catering Georgian two bedroomed apartment available in city centre – please contact us for further details
All prices include a delicious Breakfast.
Special rates for three or more nights.
1st April - 30th September 10% reduction on 3rd and consecutive nights' stay.
1st October - 31st March £10 off 3rd and consecutive nights stay.
(Not single rooms or Bank Holidays)
Your Special Celebration
If it is your birthday or anniversary while staying with us, please accept a complimentary glass of Bucks Fizz with your breakfast.
Menu may be subject to seasonal variations.
Access/Visa accepted with 5% surcharge.
Reservations: We are pleased to accept reservations by telephone, facsimile , email or in writing. Regretfully we must charge for bookings cancelled within fourteen days of proposed arrival but only if we are subsequently unable to relet the room. This charge will be 75% of the quoted room tariff.
Check in between 4pm and 8pm. (At other times by prior arrangement).
---
---
© Visitus Travel Ltd 1995 - 2010
This information belongs to Visitus Travel Ltd and to the individuals listed
This page is part of the "Bed and Breakfast in Bath" site on: http://www.bath.org
for further information, please contact : admin@visitus.co.uk

HOME PAGE
Last updated on Thursday 23rd September, 2010.