| | | | |
| --- | --- | --- | --- |
| All major credit cards accepted | 2 people sharing a double room from: £65 to £95 per night | | Non Smoking |

Welcome to Walton Villa Bath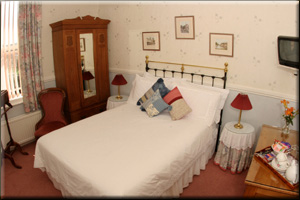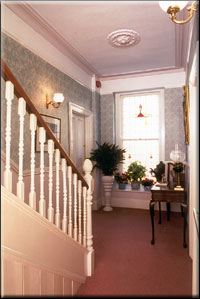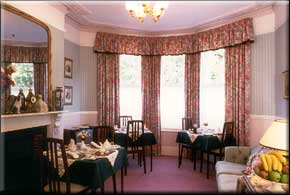 The proprietors, Michael and Carole Bryson, would like to extend their Bed and Breakfast (B&B) hospitality to you. We know and love our city and want to share it with you. We can advise, suggest and point you in any direction that you wish to make the most of your time with us.
"Such a beautiful place, warm and inviting , we're sorry to be leaving." S.K. - Maine USA.
"Great room, great people. Wish I could wrap it up and take it around the U.K." W.B. - Adelaide Australia.
"This house is without a doubt the most comfortable and lovely place we've seen." G.W. - Akersburgen Sweden.
Walton Villa offers immaculate non-smoking accommodation in a relaxed and friendly atmosphere. Our 3 en-suite bedrooms and one single, with private shower room, are enhanced with period furniture and pretty white bed linen and towels. Feather duvets are used instead of blankets, but please let us know if you prefer an alternative. All rooms have freeview TV, free WiFi access, hair drier and central heating. We pride ourselves on the exceptional standard of housekeeping that we maintain for our guests.
"Lovely house, beautifully decorated. Food was excellent. Hosts most pleasant and helpful." I.R. Greensborough Australia.
Walton Villa is a large Victorian family house located only five minutes drive from Bath city centre. Leave your car in our car park and either take one of the many frequent local buses or take a twenty five minute stroll through Royal Victoria Park, where you will see the splendid Royal Crescent, on your way to the city.
One day will never be enough to explore this World Heritage Site. The Roman Baths, Abbey and wonderful Georgian architecture, which houses the many and varied museums, are just waiting for you to visit them.
Bath is also of course an ideal base for visiting other historical sites such as Stonehenge and Avebury, the Cotswolds, Longleat, Salisbury and Lacock are all easily accessible by car or bus.
Breakfast Menu
Relax and enjoy breakfast from our varied menu in our dining room. With fruit juice, grapefruit segments, yogurt (soya alternative available), selection of cereals, fresh fruit salad, prunes or porridge
English Breakfast: Bacon, sausage, hash brown, tomato, mushrooms, beans, Eggs - poached, fried, scrambled or boiled.

or

Scrambled eggs with smoked salmon on toasted muffin.

or

Vegetarian Breakfast: Vegetarian sausage, hash brown, tomato, mushrooms, beans, Eggs - poached etc.

or

Continental Breakfast: English muffin, croissant, toast and preserves.
Cafetiere of coffee, decaffeinated coffee. English Breakfast tea, Earl Grey, decaffeinated tea, green tea. Selection of fruit teas, peppermint, camomile and honey, hot chocolate, soya milk is also available.
Tariff
Prices for Bed and Breakfast (B&B) including full English breakfast are:
Single room with private shower and toilet, from: £40 to £55
Single person in en-suite room, from £55 to £65
Two people in double or twin en-suite room, from £65 to £95
We accept cash, travellers cheques, cheques with guarantee card and most major credit cards.
How to Find Us
When travelling to Bath from London or the North leave the M4 at Junction 18 for A46 to Bath.
As you pas Dyrham Park there is a right hand turn just after the Tea Shop on the brow of the hill as the road bends to the left. Follow this road until you come to a staggered crossroads, turn right and then almost immediately left. At the next T junction, on the bend of the hill, turn left sign posted to Bath Racecourse.
Follow the road and you will pass the Lansdown Racecourse and the Blathwayt Pub on your right, then take the next right sign posted to Weston. Follow the road to the bottom of the hill and turn left at the roundabout.
Apporximately ½ mile you will pass the Royal United Hospital on your right and at the next roundabout turn left towards Bath, Walton Villa is 150 meters on your right.
When travelling to Bath from Bristol (A4) or Wells, Cheddar A39, at the roundabout where the Globe Restaurant is on your right, take exit to Bath along dual carriage-way. Fork left at end of dual carriageway just before traffic lights. After park and ride entrance on your left, take the next left onto Old Newbridge Hill. Turn right at the top of the hill onto Newbridge Hill and at the next roundabout go straight across and Walton Villa is 150 metres on your right.
We wish you a safe journey.
© Vistus Travel Ltd 1995 - 2011
This information belongs to Visitus Travel Ltd and to the individuals listed
This page is part of the "Bed and Breakfast in the UK" site on: http://www.visitus.co.uk
for further information, please contact : admin@visitus.co.uk

We welcome any comments or suggestions you might have regarding this site
Last updated Monday 7th. February, 2011